Nothing, absolutely nothing could beat out Stranger Things 2 as my most anticipated release of 2016. Nothing. Not Guardians of the Galaxy 2, not Thor: Ragnarok, not even Justice League! Because come on. The first season of this show landed last year on Netflix and took the world by storm, unleashing a slew of flashbacks for 80's children. References to E.T., Carrie, Stand By Me, and more made up the wondrous eight episodes of Season 1. And now, just in time for Halloween, the Duffer Brothers and Netflix have gifted us with the second season! Enjoy this (mostly) spoiler-free review of the new season, and if you haven't already, check out the show on Netflix. You won't regret it.
Stranger Things 2 picks up a year after the events of the first season, with Will back in Hawkins and reunited with his friends and family. However, Will begins having strange visions of the Upside Down and a giant monster. There are also some new characters introduced. Bob (Sean Astin), the nerdy tech guy who's dating Joyce. Max (Sadie Sink), a tomboy who loves video games and skateboarding, who becomes a love interest for Lucas and Dustin. Billy (Dacre Montgomery), Max's stepbrother who poses a threat to our heroes. And Dr. Sam Owens (Paul Reiser), a scientist at Hawkins Lab.
I personally enjoy the new characters, save for Billy. Dacre Montgomery does a great job at playing a total d*ck of a character. Max was personally my favorite of the new additions because she's just so fun. She doesn't have much purpose until the halfway point of this season, but I really hope she gets expanded on in Season Three. Bob is the lovable dude who's just an all-around nice guy. All of the new characters are written really well, and the acting proves to be just as good as last seasons.
Speaking of acting, I'll say this much. The adults and the kids give what can be expressed as phenomenal performances. There's a scene that had some of the most emotion and power conveyed in a show I've ever seen. There's a scene in "Chapter Eight" where Winona Ryder and Finn Wolfhard give very deep and moving lines of dialogue that prove how far this show has come in just two seasons. Noah Schnapp, who plays Will, also does a really fantastic job in this season. His character was the one being found in Season 1, but he isn't the same, and his performance makes the show really hold up against a few weak points.
Eleven's story arc was one of the best parts of Season 1. Millie Bobby Brown's performance and the mystery of the pain she endured in Hawkins Lab were all very interesting. However, her story arc this season…was pretty disappointing. I'm not saying it was bad because it wasn't! It just wasn't great either. In the opening scene of the show, you see a young woman with the same tattoo as Eleven, but reading "008" instead. She has powers, too, and after Eleven leaves Hopper's place (more on that later) and comes back home to her catatonic mother, who she can communicate with and see the memories of. She then heads to Chicago to find this other girl, Kali. An entire episode was dedicated to this storyline, which I don't think was really necessary. It felt bloated and didn't flow well with the rest of the season.
As mentioned, yes, Eleven is staying with Hopper. She gets out of the Upside Down pretty quickly, actually. Aaaaaand…she's got hair! Yup, Eleven has a new cut and it's great. Her character also has some major upgrades this season. Remember how she looked in the mirror and said "Pretty" last season. Yeah, that's gone. Now it's "Bitchin." Also, Dustin has teeth. Nobody can resist those pearls.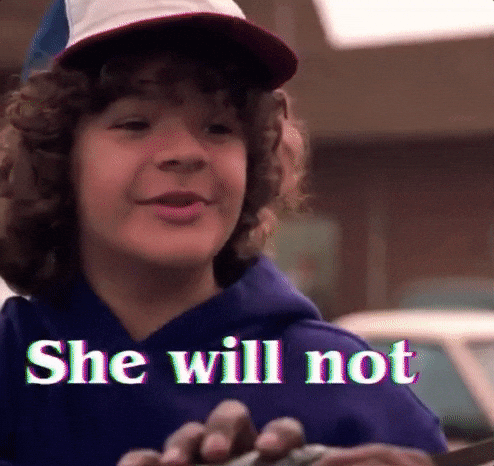 Steve, a character you may not have liked in Season 1 really shines here. He essentially grows up, which is weird because he's in high school. But he's out of that "bad boy" phase. He's a mentor to Dustin. He helps the kids out. He tells Dustin how he gets his hair to look good. He became a really great character this season. Nancy and Johnathan also get together, but the show doesn't really follow up on that, save for a smile between the two at the Snow Ball. There are also kick-ass moments between the entire cast. Gotta love that ensemble.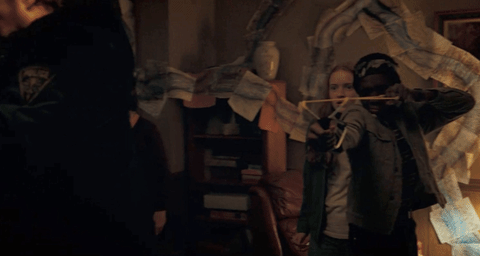 THE VERDICT
While Season 1 was a mix between E.T. and Stand By Me, Season 2 acts as an Alien and The Exorcist mash-up. Eleven's story arc was the primarily uninteresting one to me, the others shine brightly and the characters are still strong as ever. The humor is on point. The 80's references are still awesome. And to even things out a bit, there is justice for Barb. I'm going to give Season 2 of Stranger Things an A-.
Stranger Things 2 stars Winona Ryder, David Harbour, Finn Wolfhard, Millie Bobby Brown, Gaten Matarazzo, Caleb McLaughlin, Natalia Dyer, Charlie Heaton, Cara Buono, Matthew Modine, Noah Schnapp, Sadie Sink, Joe Keery, Dacre Montgomery, Sean Astin, and Paul Reiser. Created by the Duffer Brothers.