Celebrate Pop Culture with Sideshow at San Diego Comic-Con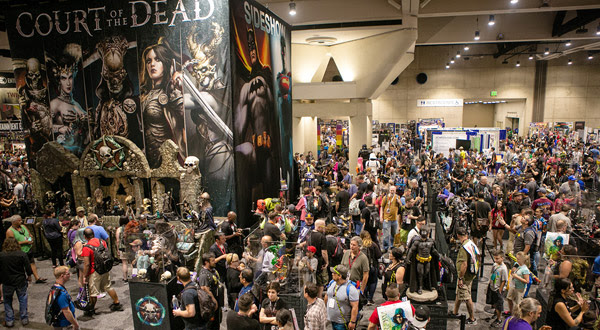 It's San Diego Comic-Con time once again, and, as always, Sideshow is the place to be for all your fandoms…
 
AT THE SHOW – SIDESHOW BOOTH #1929

Every year, we give fans the first look at the latest pop culture collectibles as well as artist signings, contests, giveaways, cosplayer appearances, and more!
Sideshow will be unveiling all-new 1:6 scale poseable figures, 1:4 scale statues, and even life-sized works of art!  See the very latest 
Star Wars
, 
Marvel
, and DC Comics-inspired characters and a whole host of new products that have never been seen at any other show!
Sideshow's huge Hot Toys display celebrates the cinematic side of pop-culture, with amazing figures inspired by characters from your favorite superhero and science fiction movies.Our friends and distribution partners Prime 1 Studio, Blitzway, Cool Props, and Iron Studios will all be joining us at booth #1929, with new statues, figures, and prop replica memorabilia.
Also, don't forget to visit Pop Culture Shock Collectibles at Booth #2049. PCS & Sideshow have just announced an exclusive distribution deal in which Sideshow will be the only place to order PCS items in the future!
Sideshow's original horror fantasy property 
Court of the Dead
will once again be rising from the Underworld with giveaways, contests, and exciting first looks at upcoming products.
New announcements and product images will be appearing on Sideshow's website daily! For all the latest information and photo assets as they are released, visit:
sideshow.com/comingsoon
Celebrate pop culture with Sideshow at San Diego Comic-Con this year at Booth #1929!
SPECIAL EVENTS AND CONTESTS
Throughout Comic-Con, Sideshow will be running live contests and giveaways on the show floor.
The Court of the Dead will also be hosting a multi-vendor scavenger hunt to earn a show-exclusive pin.
Fans will also have the chance to enter to win a BB-8 Life-Size Figure, valued at $3,950!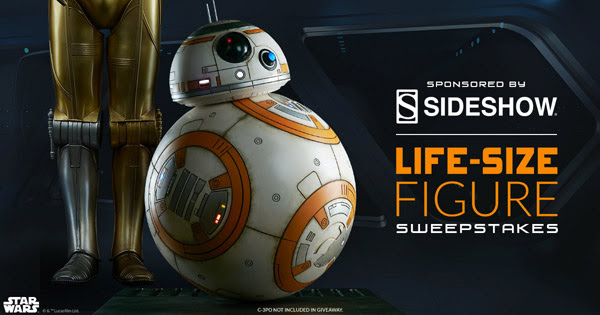 Thursday
12 Noon – 1 pm – Court of the Dead creator, Tom Gilliland will be signing a limited edition Testament / Carnifex gig poster at the Nuclear Blast booth #501
1:00-2:00 pm – Stanley "Artgerm" Lau will be signing FREE limited edition Supergirl promo posters at Sideshow booth #1929.
7:00pm Court of the Dead Presents the Nuclear Blast Comic Con After Party with music by Testament and Carnifex. LINK: https://www1.ticketmaster.com/event/0A0054C8EB9F3D20
Friday
11am-Noon – Brian Rood will be signing FREE Dark Knight promo posters at Sideshow booth #1929.
11am-Noon – Tom Gilliland & Olivia De Berardinis will be signing limited edition Artist Proofs of Sideshow's Gallevarbe Fine Art Print at Olivia's booth #5550
2:30-3:30pm – Olivia De Berardinis will be signing FREE Wonder Woman promo posters at Sideshow booth #1929
Saturday
11am-Noon – Walter O'Neal will be signing FREE Darth Maul promo posters at Sideshow booth #1929
2:30-3:30pm – Mark Brooks will be signing FREE Spider-Verse promo posters at Sideshow booth #1929